Living with Osteoporosis?
Join our supportive Osteoporosis group to share information and learn more about the condition.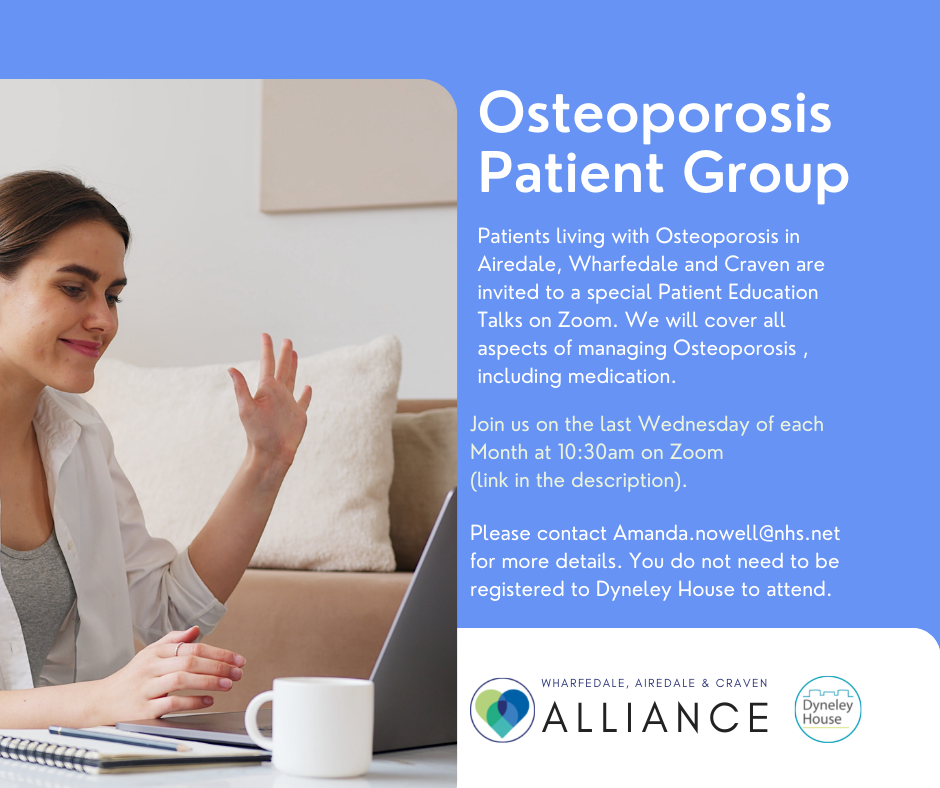 Patients living with Osteoporosis in Airedale, Wharfedale and Craven are invited to special Patient Education Talks on Zoom. We will cover all aspects of managing Osteoporosis, including medication.
Join us on the last Wednesday of each Month at 10:30 am on Zoom
https://us02web.zoom.us/j/88920563768
Please contact This email address is being protected from spambots. You need JavaScript enabled to view it. for more details. You do not need to be registered to Dyneley House to attend.
July 28th – 11.00 – 12.00 (running for 6 weeks)
Face to Face funded exercise sessions delivered by qualified instructors in the Scout Hut, running for 6 weeks, commitment to all sessions would be appreciated. Please enrol via https://eatmovebehappy.com or email This email address is being protected from spambots. You need JavaScript enabled to view it..
September 29th – 10.30 – 11.30 – face to face resumes in the Barn!
The Royal Osteoporosis Society joins us to share valuable information about the organisation and its work.
October 27th – 10.30 – 11.30
We will be joined by Jayne Chapman from My Wellbeing College to find out what support you can access for your emotional needs.
November 24th – 10.30 – 11.30
A Dyneley Surgery GP will be joining us to for a Q&A session
December 15th – 10.30 – 11.30
A Christmas social and a chance to help us plan for 2022
Any questions please email This email address is being protected from spambots. You need JavaScript enabled to view it.